SOLVENT YELLOW 98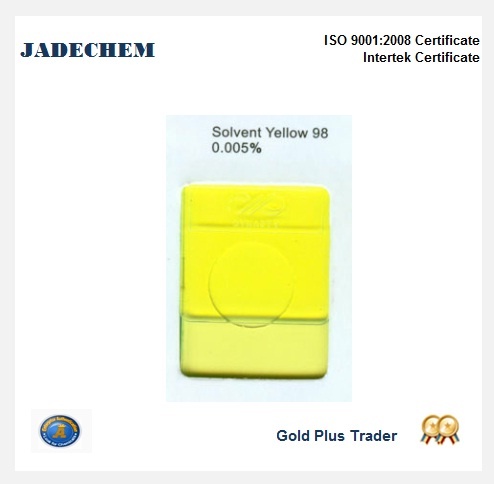 Product: Solvent Yellow 98, Solvent Yellow 3G

Physical and Chemical properties
Appearance: Greenish yellow powder
Tinting Strength %: 95-105
Degree of pigmentation: 0.05% dyes+0.10% TiO2
Residue on 80mesh %: 5.0max
Volatile Matter at 105°C %: 1.0 max
Solubility in organic solvent at 20°C (g/l)
Recommended Dosage:
Transparent 0.005 Non-Transparent 0.02
Recommend application: PS, ABS,PC, R-PVC, PMMA, SAN,PET

Package: 25kgs fibre drum with pallet or as per customer advice.

Delivery: shipment will be done in 7-10 days after receiving your TT or LC.

Samples: Free sample is available by FEDEX/DHL/TNT for customer's testing.
Properties and application:
Jadechem solvent dyes is Azo and Apthraquinone dyes which has good miscibility to various plastic materials, mostly are suitable for various plastic materials coloring, with high color strength, good fastness to heat, acid light and alkali. They are generally used for coloring domestic plastic materials, cop tube materials, fat dyeing, lacquers, oil, inks and master batches. They are also suitable for spin-dyeing of polyester fiber, completely soluble in polymer, produce color intensely with bright color shade, high transparency and excellent fastness properties. And applicable in the spin dyeing of polyamide fiber, produce color intensely with good fastness properties, also wide range for PS,SAN,ABS,PMMA,PC,PET,CP etc...Dyes are soluble in the polymers during the application process, get bright color with high transparency.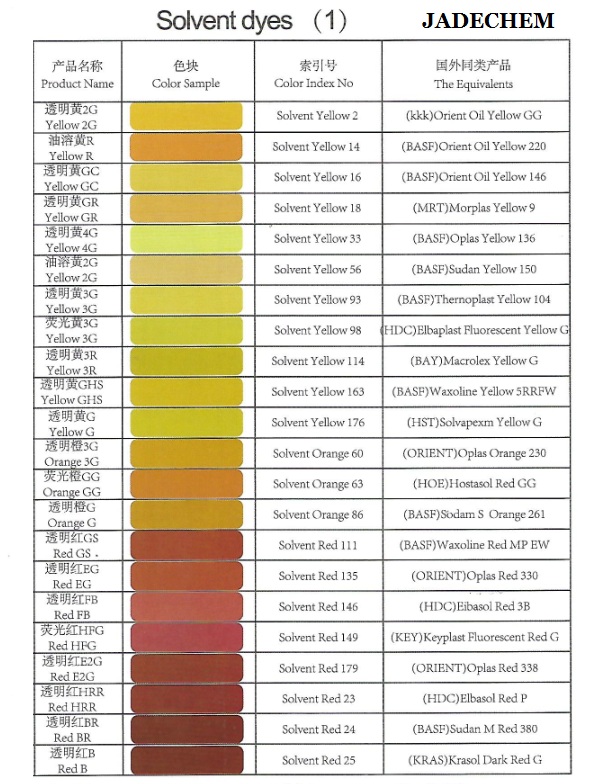 Package: